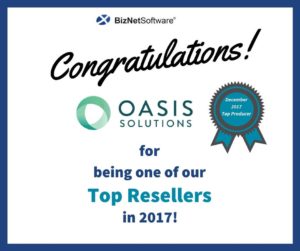 Oasis Solutions, a leading provider of business management software solutions to small and mid-sized businesses, has been recognized as a 2017 Top Reseller by BizNet Software (BizNet), a market leader in self-service reporting and analytics solutions.


Oasis's partnership with BizNet provides our Sage 100 clients with a valuable extension of their ERP system, taking the report-building process from days to minutes so that you can focus on the insights in the reports and support your business with real-time data.
BizNet enjoys working with partners like Oasis who are hard-working, coming up with innovative solutions for their clients, have a large and trusting customer base, and encourage and foster friendly competition.
"We are honored that Biznet has recognized Oasis Solutions as a top partner for their products. We appreciate the relationship with the team at Biznet and value our customers who have chosen to incorporate Biznet into their business analytics.", said Annette Manias, President and Owner at Oasis Solutions.
Interested in learning more about how Oasis and BizNet can help you make the most of your ERP platform and save time? Check out our most recent webinar:
About BizNet Software
BizNet Software, Inc. is a market leader for Microsoft Excel® in-memory reporting and business intelligence.


Founded in 1996 to take the mystery out of databases, BizNet focuses on Microsoft Excel® reporting solutions guided by financial and business professionals with a real-world understanding of corporate financial, operational and technical requirements. Built upon fundamental business disciplines and controls, BizNet solutions create a self-sufficient work environment for business professionals that streamline workflow and improve productivity.

BizNet Software has over 7,000 users and 200 partners in over 15 different countries and achieved record sales in 2011 with expansions in North America, Europe, Africa, and Australia.

For more information, call 888-803-5227 or visit http://www.biznetsoftware.com

About Oasis Solutions
Since 1991, Oasis Solutions has been serving businesses throughout North America with software consulting, development, training, and support.

Oasis has been around since before technology was a buzzword, assisting clients in assessing, implementing and supporting their core business management software.

Our team of talented software consultants provide Oasis clients with over 250 years of combined experience. Oasis Solutions is headquartered in Louisville with offices in Lexington, KY, and Nashville, TN.

At Oasis, it's not just what we bring to the table, it's who.