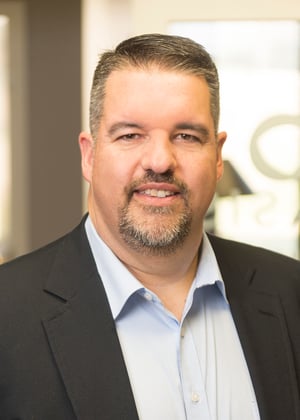 Jeff Stout, Senior Software Consultant, has been named Sage Practice Manager at Oasis Solutions.
Jeff joined the Oasis Solutions team in March 2019 with over 20 years expertise in ERP consulting across various industries including manufacturing, distribution, retail and professional services. His previous roles as both CFO and Controller give him a unique perspective on client projects and expound upon his skills in managing the full project cycle during an ERP system implementation from initial system analysis through the go-live deployment.
"We're beyond thrilled to have someone with Jeff's experience and expertise leading our Sage 100 practice. Since day one, Jeff has fit right into our culture and brings a great demeanor to the team. His easy-going attitude, calm approach as well as his creativity for problem solving is a huge benefit to our team and to our clients," Partner/SVP of Business Development, Aaron Rosenberg.
Oasis Solutions: Innovation at the Intersection of Business and Software
Oasis Solutions has been recognized as a Best Places To Work award winner for the past three consecutive years. As a fast-growing company, we leverage the best tools and tactics that enable adaptability and growth during these times. Oasis is your local NetSuite, Sage 100cloud and Workday Adaptive Planning partner that offers expertise in accounting, human resource management, and custom software development. We have your long-term plan and business strategy in mind from the get-go.
We don't just sell software. We are passionate about understanding your company's processes and committed to your success and reputation long after the go-live date. Providing you with skilled consultants and developers for support, the ability to ask for help, discuss best practices, buying options, pricing, products, and more.
As industry experts, we possess a profound understanding of the software and the knowledge and skills to best tailor your implementations to your individual business needs.
Oasis Solutions has offices in Louisville and Lexington, KY, TN, and NC. Let us help you set your team up for success by implementing the best tools for your business. www.oasisky.com